Research group renamed - Trust@HsH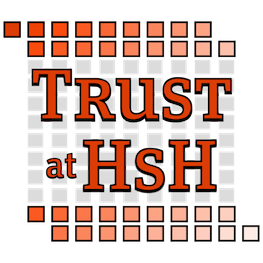 From today, our research group will present itself under a new name: Trust@HsH
New name and logo
As our University recently changed its name from Fachhochschule Hannover (FHH) to Hochschule Hannover (HsH), we decided to rename our research group from Trust@FHH to Trust@HsH to reflect this change.
During this process, we also changed our logo to match the new corporate design (color of our faculty, official font of the University).
New account names/URLs
As our name changes, our accounts all over the web also will be renamed (and thus some get new URLs):
Software changes
We will also change the package structure of our software to de.hshannover.f4.trust. All our libraries - only ifmapj at the moment - will get a major version number increase, all other tools will be updated to use the new ifmapj 1.0.0 version over the next (few) weeks.
If you find broken links or other inconsistencies, feel free to contact us via f4-i-trust@lists.hs-hannover.de.
17 Dec 2013