Steve Hanna gives talk at Trust@FHH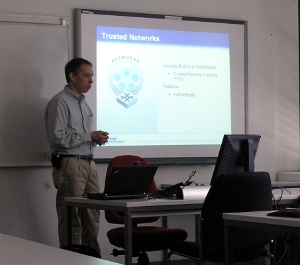 On Wednesday, Steve Hanna, Distinguished Engineer at Juniper Networks and co-chair of the TCG's TNC-WG and the IETF's NEA-WG has visited the Trust@FHH group in Hanover. It was a great chance for our group to present the current projects that we are working on to one of the most esteemed experts in the area of Trusted Computing and Trusted Network Connect.
Steve gave an exciting talk about "Coordinated Security: A New Paradigm" and presented the big picture of TNC and especially IF-MAP to members and students of our group.
08 Oct 2010